We make a lot of home made pizza around here. It's always a hit, and maybe especially the flavored garlic/basil crust.
We also eat a lot of Skyline Chili (whether store bought or homemade). It's definitely always enjoyed.
So tonight, we combined the two with fantastic results!
Basic Crust
I started with a basic pizza crust:
Ingredients
2 cups warm water (~110ºF)
2 packets of yeast (3 1/2 tsp)
4 Tbps Olive Oil (I use mild)
1 tsp salt
5-6 Cups flour
Let the crust rise for about an hour.
Skyline Pizza
If you have cans of Skyline Chili, that will obviously be best. I used the following for the pizza:
Ingredients
2 cans of Skyline Chili
1 small chopped onion
2 or 3 wieners, sliced, then warmed
Mustard
2-4 cups of mild cheddar cheese (fine shredded if possible)
Now, there are two ways I did this. First, the regular "pizza" way. With this method, oil your cookie sheet with a couple tablespoons of olive oil, and dust with corn meal, then spread the dough out over the sheet. Layer with enough chili to cover the dough, a sprinkle or two of onion, then add the cheese (generously! don't be stingy!), top with as many slices of wieners as you'd like, followed by the mustard. (Not much is necessary.)
Bake at 500º if possible for 12-13 minutes. (Until cheese is bubbly and crust is browned.) Remove, cool, enjoy!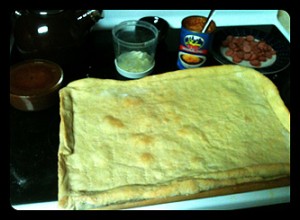 The other method is more like Skyline Chili, especially coneys. For this method, prepare the crust on the cookie sheet as above (olive oil, corn meal dust) but this time be sure to poke holes in the crust with a fork (to avoid large crust bubbles). Now put the crust only in the oven (at 500º as above) for 7-8 minutes, until the crust appears a bit brown, and sufficiently baked.
Meanwhile, warm Skyline and wiener slices on the stove to serving temperature.
Now remove crust from oven, and top with Skyline, followed by mustard, onions, wiener slices, and then top generously with (cold) finely shredded mild cheddar cheese. (See here for an example of just how generous!)
It's really fantastic! Enjoy!