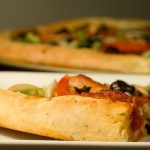 One thing we love around here is PIZZA! And, since I became fairly proficient with a few bread recipes, I figured I could probably do the same with pizza dough, right?
I found a good basic crust recipe in a cookbook we picked up along the way, and I had a recipe from my sister-in-law… both were similar, and both were pretty good. But the crust was rather bland. So, I got creative and added a few pizza-ish herbs! Thus was born my Garlic-Basil Pizza Dough!
Ingredients
2 cups warm water (~110ºF)
2 packets of yeast (3 1/2 tsp)
4 Tbps Olive Oil (I use mild)
2 tsp garlic salt
1 Tbsp dried basil
1 tsp salt
5-6 Cups flour
Dissolve the yeast in the warm water, then add the rest of the ingredients. I generally do five cups of flour first, and then mix in the final cup (or less) till the dough is the perfect consistency. Put a little olive oil in the base of your mixing bowl, cover, and let the dough rise for around an hour in a warm place. I preheat the oven on the lowest temperature while making the dough, then turn it off and let it rise inside the oven.
This amount makes enough dough for two large cookie-sheet pizzas.
Enjoy!