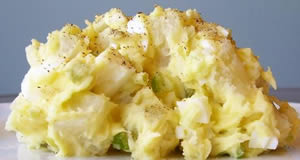 One recipe we use at least a few times each summer is my modification of the Potato Salad from Betty Crocker's 40th Anniversary Cookbook.
My family loves this simple tasting potato salad, but they don't love extra "crunchies"—so, celery seed replaces fresh celery stalks. That, and the way I prepare the potatoes are the main modifications, though sometimes I will add a tad more mayo and vinegar and mustard. (Makes it a bit creamier!)
Recipe adapted from Betty Crocker's 40th Anniversary Cookbook
Ingredients:

2 pounds potatoes (about 6 medium)
1 1/2 Cups mayonnaise
1 Tbsp vinegar (I prefer apple cider vinegar)
1 Tbsp prepared mustard
1 Tsp salt
1/2 Tsp black pepper
1/2 Tsp celery seed (can add more, if desired)
1 medium onion, finely chopped
4 hard-boiled eggs, chopped
Peel, dice, and then add rinsed potatoes to a pot of boiling water. Boil until softened (press against the side of the pot to test softness). If you don't already have hard-boiled eggs on hand, be sure to get those going while you are boiling the potatoes. While the potatoes are boiling, add mayonnaise, mustard, vinegar, salt and pepper to a large bowl and mix well by hand. Once the potatoes are finished, drain, and add to this bowl. Stir gently, folding into the mayo/mustard base, so you don't smash up the potatoes. Add the eggs last and fold those in gently, too.
Seal and allow to cool in your refrigerator for at least a few hours. Then serve it up with your favorite summer foods from the grill. There will be many happy mouths and tummies!