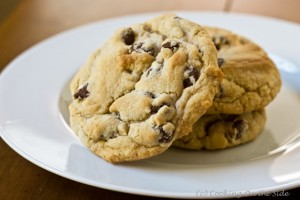 One of my most requested baked treats are these chocolate chip cookies which are a version of the recipe found over a decade ago on the packaging of the generic Aldi brand chocolate chips! How about that for a recipe source? :)
Modifications are minor. In fact, it might be only the doubling of the vanilla. (But oh, that makes them delicious!) Cook time and temp will vary, too. See instructions below for more on that.
Ingredients:

1 cup butter, softened
1 cup shortening
1 cup sugar
2 cup brown sugar
4 eggs
3-4 tsp vanilla
5 cups flour
2 tsp baking soda
2 tsp salt
1 large bag chocolate chips
Preheat oven to 350ºF. Your oven may vary, so watch carefully to see that the cookies are baking thoroughly without browning the edges too much. This will dry out the cookies, or even "burn" the bottoms (more than you want!). The original recipe instructed the baker to preheat to 375ºF, but this caused the too-quick browning, without thorough baking. So know your oven, and set the temperature accordingly.
Cream butter, shortening and sugars. I like to whip it on high speed for 1 or 2 minutes. Add in eggs and beat again till smooth and fluffy. Add vanilla, then flour and other dry ingredients. Mix together, but not on high speed this time, just until all dry ingredients are worked in. Add chocolate chips (I use a whole 24 oz bag, but you can add as many or as few as you like.)
Spoon out in generous tablespoon-fulls. Eight drops per cookie sheet, one-and-a-half to two inches in diameter. I prefer to bake one tray at a time, allowing for the most even heat distribution. Bake 8-10 minutes, watching carefully for the browning edges and for any moisture to disappear from the middle. Do not over-bake! Once cookies are ready, remove from oven and allow to cool on cookie sheet for a couple minutes. After a short cooling time on the tray, remove to a cooling rack. Allow to cool for at least five to ten minutes before eating (or storing).
Recipe makes approximately five dozen large cookies. And believe me, they go fast! :)
---
Originally published July 29th, 2013. Updated September 8th, 2014