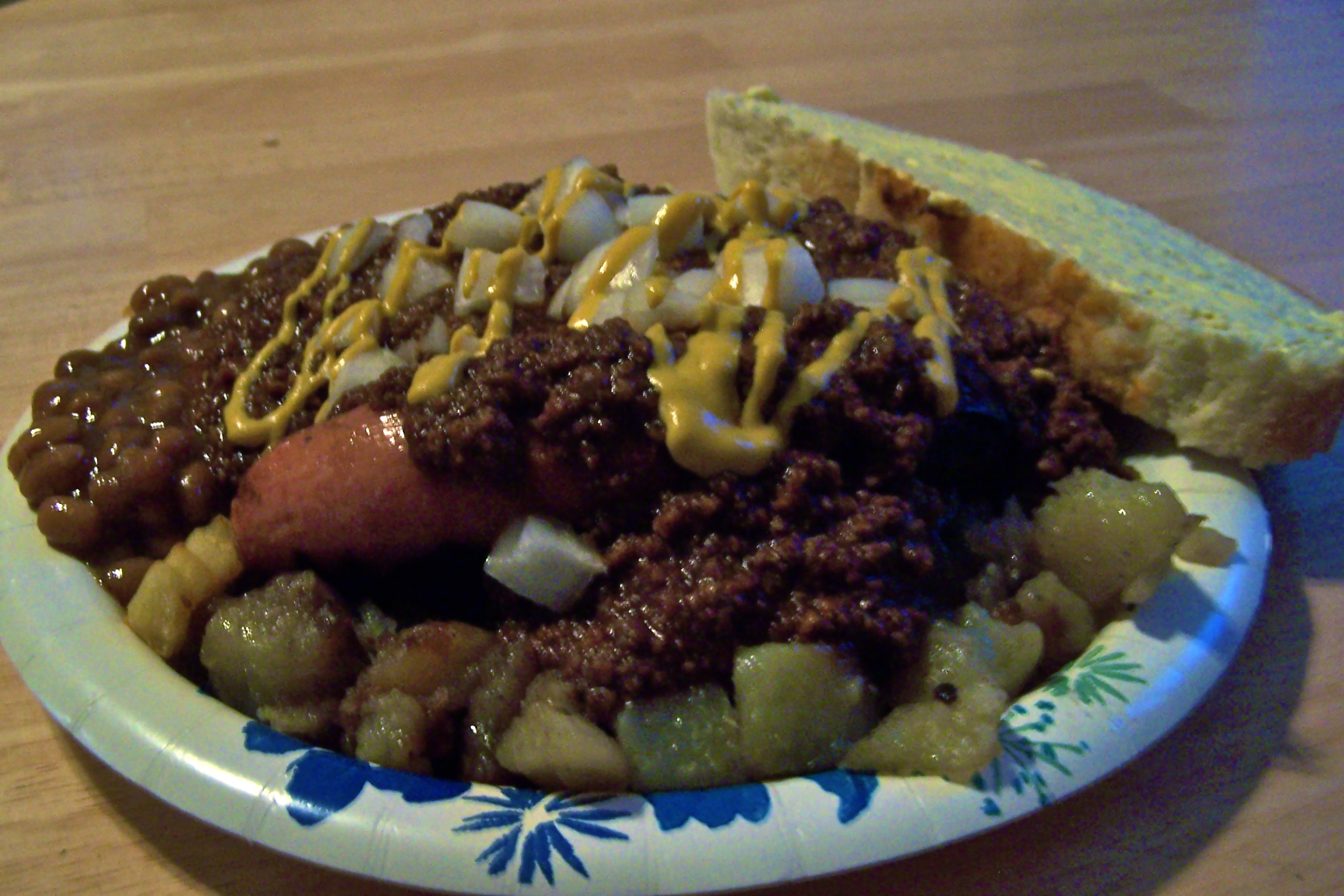 This weekend we had some friends over to eat. We call it the Food Fest and host it every year in July. Showcasing some of our favorite foods in ridiculous quantities, just for fun! This year we decided to have a very specific theme: Garbage Plates!
The original "Garbage Plate" is from a local eatery named after it's owner, Nick Tahou's. It features most of the foods you can find at any local diner, all piled up together on a plate, served with a couple slices of fresh bread. It's fantastic!
I got the recipe through a friend, and thought I'd share it here as well (with my modifications…) It made for a great summer party meal! (And is just ridiculously filling!!) Note: I did triple the ingredients below (except for the onion) for a party of about 20 people, half kids.
Enjoy!
Ingredients:
Special Sauce Ingredients:
1 – medium onion, chopped
1 – tbsp garlic, minced
1 – tbsp. oil
1 – lb. triple-ground beef
1 1/2 – cup water
1 – 6 oz can tomato paste
1 – tsp. ground black pepper
3/4 – tsp. cayenne pepper
1 – tsp. chili powder
1 1/2 – tsp. paprika
1/2 – tsp. ground cumin
1/2 – tsp. allspice
1/4 – tsp. cinnamon
1/2 – tsp. powdered cloves
1 – tsp. salt (to taste)
Mix beef with water and oil and dissolve as much as possible, for finer texture. Begin heating on medium-high heat while adding all of the ingredients, stirring frequently. (Don't want to burn!) Cook for 10 minutes or so, still stirring, then reduce heat and let simmer for at least 30 more minutes. (The longer the better, but keep the sauce moist… may need to add water here and there. The consistency should be thin, but not too watery.)
The Garbage Plate:
Hamburger patties, or hot dogs (preferably Zweigle's … another Rochester favorite)
Baked beans
Macaroni Salad
Home Fries (and/or french fries)
Diced Onion
Mustard
Grill up your favorite meat, and when it's ready here's the order for piling up the delicious food on your plate: (Large paper plates worked well for us.) First, add about 1 cup each of Mac salad, baked beans (COLD, not hot), and either home fries or french fries (your choice… some of our guests had both!) Next, add the meat. Two pieces. Next cover the plate with a ladle-full of the special sauce from above. Add some diced onion and crisscross the plate with mustard. Serve with two slices of fresh bread.
And just try to finish it! :-)