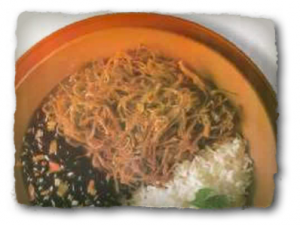 The final piece of the pabellón meal (that I am going to post here) is a piece that can actually stand on its own. Arepas are little cakes made of precooked, white corn flour that are usually cooked on a griddle in a little bit of oil, and then cut and filled with all sorts of good things. Sometimes it's cheese, sometimes it's meat, or vegetables, or a combination of any of those.
They come in all sizes, but for the pabellón meal, generally I make them about 2 1/2-3 inches in diameter. (If the arepa is the meal, they are generally 5 inches or so.) Also, they are formed to about 3/4″ thick.
Arepas
2 cups harina de maiz blanco precocido*
3 cups warm water
1 tsp salt
Canola Oil
Mix the flour and salt and water until a nice, wet dough is formed. Form round cakes by hand to the desired size. Add just enough oil to cover the cooking surface (I like to use a griddle) and cook until brown and crispy on the outside. Be sure to cook evenly on both sides. (Arepas can also be baked in the oven, usually after browning in the hot oil first. I do not usually bake mine.)
Once finished, allow to cool for a few minutes then slice open and add cheese (we use Queso De Freir, but most any white cheese will do) or whatever filling you'd like. Then enjoy!
* There are several places to get the precooked white corn flour … here are a couple of good options: Harina P.A.N. (from AmigoFoods.com), or Goya's (white) Masarepa
. I am actually able to find both at our local Wegmans.
Also, someday, I hope to visit the Caracas Arepa Bar in New York City. Check out their menu for some good ideas on what to put inside your arepas!