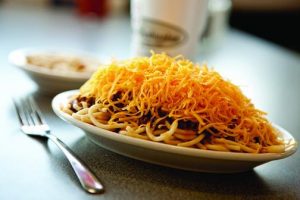 Ingredients:
2 lbs ground beef
1/2 tsp cumin
1 tsp cinnamon
2 Tbsp chili powder
1/2  tsp pepper
1 Tbsp salt
1 tsp cayenne pepper
1-1/2 tsp allspice
1/2  tsp garlic salt
2 dashes Worcestershire  sauce
1 6 oz can tomato paste
Corn Starch
Dissolve beef in 10 cups cold water. Once I get it started with a spoon, I use a hand mixer to get the meat as fine as possible.  Add rest of ingredients.  Bring to a boil then simmer for 4 hours, stirring occasionally.  Thicken with corn starch.  Serve over spaghetti noodles.  Top with cheddar cheese.  Eat.  Enjoy.  Eat some more.  Enjoy some more.
I often make at least a double batch. For 3 pounds of beef, I often double the spices.  (And add some water.)  For 5 lbs of beef I triple all the spices, but only use 12 oz of tomato paste.