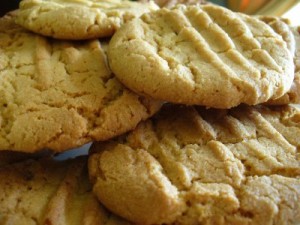 These cookies are fairly quick and easy, and are a delicious treat! (I know this because they don't last much longer than it takes to cool them off! They are a hit in the Campbell home!)
Recipe adapted from Betty Crocker's 40th Anniversary Cookbook
Ingredients:

1/4 cup butter, softened
1/4 cup shortening
1/2 cup brown sugar
1/2 cup sugar
1/2 cup peanut butter (creamy or crunchy)
1 egg
1 1/4 cup flour
3/4 tsp baking soda
1/2 tsp baking powder
Preheat oven to 350ºF. (Recipe says 375ºF, but I have found 350ºF to work better with my oven.)
Mix the first six ingredients together until smooth and then add the flour, baking soda and baking powder. Optional extra ingredients include chopped peanuts and chocolate chips. (And whatever else you might want to throw in!)
The recipe says to chill, but I've never found that to be necessary. Roll teaspoon size balls of dough and place on a cookie sheet. Press down to about 1/4″ thick with a fork (making crisscross marks by turning the for 90º) or with any sort of styled press for even more fun-looking cookies! Sprinkle each cookie with white sugar and bake for 9-10 minutes, or until cookies look dry and you can see a slight browning around the bottom edge.
Let them cool for a minute or two on the cookie sheet, and then remove to a baking rack to cool more thoroughly.
Recipe makes about 3 dozen cookies.