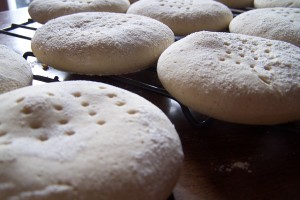 When I was a kid, my Mom would make these puffy, soft, delicious treats every once in a while, and we loved them!  I eventually found out that they were a recipe passed down through my Mom's maternal side of the family from some distant Welsh relative.  (Her mom, and her grandma used to make them, and so on.)  Since the recipe is so old, there are some interesting ingredients in the list below.  I've included a couple links to purchase the non-standard items at Amazon.com, if that helps.  Enjoy this old family recipe!
Lemon Crackers
1 Tbps Bakers Ammonia*
1 Cup Milk
1/2 Cup Shortening
1 1/2 Cup sugar
1 Egg
1 Tbps Lemon Oil*
5 Cups flour
Mix ammonia and milk together.  Add the rest of the ingredients.  Slowly add flour.  Mix.
Roll out dough till about 1/4" thick and cut out shapes (the top of a glass will work).  Place on cookie sheet.
Bake at 350ºF for 10-12 minutes.
Goes great with a nice cup of tea!
---
* Baker's Ammonia is not very commonly used any more and so is slightly difficult to find. I did find some at Amazon.com, for a decent price. Lemon Oil is also not that easy to find, but I've included a link here below as well.