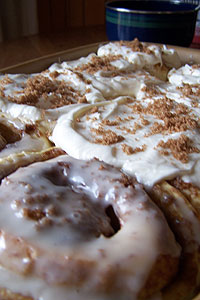 INGREDIENTS:
1/2 C warm water
2 packages of yeast
2 Tbsp sugar
3.5 oz. instant vanilla pudding
1/2C melted butter
2 large eggs
1 tsp salt
8 C flour
app. 1/2 C melted butter
Topping:
2 C packed brown sugar and 2 Tbsp cinnamon
Cream Cheese Frosting:
8 oz/ cream cheese – softened
1/2 C soft butter
1 tsp vanilla
3 C powdered sugar
2-3 Tbsp milk, just enough for fluffing
In a small bowl, combine water, yeast and sugar. Stir until dissolved. In a large bowl, make pudding according to package. Add butter, eggs and salt. Mix well. Add the yeast mixture, blend. Gradually add flour and knead until smooth. Adding flour as needed. When dough is smooth, place in a large bowl, cover and let rise until doubled (about 1 hr.). Punch down and let rise again for about 45 minutes.
Roll out onto a floured surface – into a rectangle. Spread 1/2 C melted (I think really soft butter might be better as it won't run as much) and then sprinkle the topping on. Roll up very tightly. Make a notch every 2 inches. Use some thread to go under dough and criss-cross at notch to make a clean cut. Place on greased baking pan 2 inches apart and press down slightly. Cover and let rise again – 1 h our. Bake at 350 for 15-20 minutes. Take them out just as they turn brown. Don't overbake. Frost when they are warm and serve when they are warm!!
That is a lot of rising. One thing to note is that on the first rise cycle, the dough does not rise much as the ingredients are cold. It rises a LOT the second and third times though!
Enjoy!